To fill needs that extend beyond our programs and services, we team up with others whose services can be easily drawn upon when needed.

Guard Your Health
Guard Your Health is a central place online for Army National Guard Soldiers and family members to find information and resources on health and medical readiness. Website visitors can access health tips, expert commentary, and community forums on topics such as nutrition, exercise, stress, sleep, dental health, readiness and family resilience.
Student Veterans of America

Founded in 2008, Student Veterans of America's (SVA) more than 1,300 chapters provide impactful programs and services for the more than 1 million veterans who have returned home to pursue a post-secondary degree or certificate using VA education benefits.
VetJobs
VetJobs, a leading job board owned and operated by veterans for veterans, helps meet the shortage of qualified candidates in the civilian sector with highly trained veterans who can offer employers technical skills, management expertise and leadership.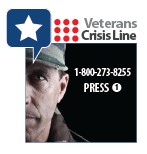 One small act can make a difference. Show your support for Veterans and Service members who may be in crisis, and spread the word about The Power of 1. Veterans, Service members, and their loved ones can call 1-800-273-8255 and Press 1, send a text message to 838255, or chat online to receive free, confidential support 24 hours a day, 7 days a week, 365 days a year, even if they are not registered with VA or enrolled in VA health care.
VFW Post Pride
For more than 117 years, VFW Posts have been the pillars of support in communities worldwide. From coordinating welcome home celebrations and community picnics, to building playgrounds and organizing clothing drives, VFW Post Pride showcases the hard work and support that make VFW Posts and their members second to none. Would you like your Post's latest troop or community support event featured here? Use #VFWPostPride when sharing your story, photo or video to social media.

The VFW continues to offer direct intervention on behalf of veterans who are experiencing problems accessing care. To report problems or concerns regarding VA health care or benefits,
contact us by email
or call 1-800-VFW-1899 (1-800-839-1899).
Hepatitis C (Hep C) is a serious, blood-borne disease that has been under the radar. It's not talked about much, so even though it affects
millions
, many people don't know about it. It's almost been forgotten. People live with it for years or even decades with no symptoms, while Hep C slowly damages their liver. By the time symptoms do appear, liver damage is often advanced. Left untreated, Hep C can cause liver damage, liver cancer, and even death.
That's why it's important to get tested, so you can know for sure. And if you have Hep C, it can be cured.
Many men and women who have bravely served our country are sadly left with painful memories they wish they didn't have. In many cases, veterans turn to drugs and alcohol as a way to deal with these thoughts, especially PTSD. Luckily, there are resources available to help.
Veteran Justice Outreach - Legal Help - Nathan DeLeon - (505)-206-9086 - nathan.deleon@va.gov