To fill needs that extend beyond our programs and services, we team up with others whose services can be easily drawn upon when needed.
Founded in 2008, Student Veterans Of America (SVA) more than 1,300 chapters provide impactful programs and services for more than 1 million veterans who have returned home to pursue a post-secondary degree or certificate using VA education benefits.
VetJobs, a leading job board owned and operated by veterans for veterans, helps meet the shortage of qualified candidates in the civilian sector with highly trained veterans who can offer employers technical skills, management expertise and leadership.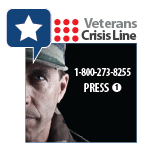 One small act can make a difference. Show your support for Veterans and Service members who may be in crisis, and spread the word about The Power of 1. Veterans, Service members, and their loved ones can call 1-800-273-8255 and Press 1, send a text message to 838255, or chat online to receive free, confidential support 24 hours a day, 7 days a week, 365 days a year, even if they are not registered with VA or enrolled in VA health care.
VFW Post Pride


For more than 117 years, VFW Posts have been the pillars of support in communities worldwide. From coordinating welcome home celebrations and community picnics to building playgrounds and organizing clothing drives, VFW Post Pride showcases the hard work and support that make VFW Posts and their members second to none. Would you like your Post's latest troop or community support event featured here? Use #VFWPostPride when sharing your story, photo or video to social media.
.
Many men and women who have bravely served our country are sadly left with painful memories they wish they didn't have. In many cases, veterans turn to drugs and alcohol as a way to deal with these thoughts, especially PTSD. Luckily, there are resources available to help.
Veteran Justice Outreach - Legal Help - Nathan DeLeon - (505)-206-9086 - nathan.deleon@va.gov
When the brave and selfless heroes from our armed forces return home, unforeseen difficulties often present themselves as they try to readjust to life stateside. The way many individuals attempt to mask their struggles is by abusing drugs and alcohol.
Other Helpful Links: